Current Donation Goals
Qubit 4
A helpful tool that we will ultimately need to acquire is a Qubit 4. To use this machine, you place a drop of the product that you intend to sequence on the unit, and it tells you the concentration of the DNA that is in the sample. New these are about $3,000+. They pop up used on Ebay from time-to-time and go for about $1,700. We will purchase one of these second-hand, rather than new. If anyone has connections in the science industry where we could acquire one of these for a low cost, please reach out.
https://www.thermofisher.com/us/en/home/industrial/spectroscopy-elemental-isotope-analysis/molecular-spectroscopy/fluorometers/qubit/qubit-fluorometer.html
https://www.ebay.com/itm/265388741246?hash=item3dca66d27e:g:GzcAAOSwEvRhgbaq
Raised $250 of $1,750 target
MinION Flongle Starter Pack - FUNDED
The Flongle is an add-on component to the MinION, which allows for smaller DNA Sequencing runs. This (in theory) means faster and cheaper results. Currently, these units only work with a previous generation of flow cells (R9) rather than the newer (R10.4 - dual readers on channel).  We would like to compare both technologies. This will also allow us to be ready to take full advantage of the Flongle promise when R10.4 flow cells are released for the Flongle.
DNA Sequencing with MinION course
Fall 2022 – Likely Saturday, Oct. 22, 2022 (Subject to change)
Indianapolis area
This course will cover all the basics of DNA sequencing with the MinION. Topics included will be specimen collection and drying, taking tissue, DNA extraction, DNA amplification, DNA sequencing, and data analysis. It will cover all of the benefits, challenges, and limitations of the MinION system with hands-on experience for each participant. This will be a full day course, starting at 9am and continuing into the late evening. The event will be held in the Indianapolis area that has a large conference room or classroom, as well as an abundance of woods nearby. We will do a 2 hour foray in the morning and then spend the rest of the day working the DNA sequencing process. No previous experience is required and every topic will be taught from the beginner perspective.
There will be a tiered admission for registration. Each tier has a limited number of registrants available. The first 5 people to make a donation and comment here: https://m.facebook.com/groups/indianamushrooms/permalink/3135269980082033/ will be able to register at that price tier. That tier is then full.  There is a limit of 20 participants across all tiers. For the next 24 hours, registration is limited to the 20 individuals who voted "Yes" in the poll that they would be interested in the course. Registration will then be opened up to others.
Level 1 (Early Bird VIP) - $150 – 5 spots - FULL
Level 2 (Supporter) - $200 – 5 spots - FULL
Level 3 (General Participant) - $250 – 10 spots - FULL
The goals of hosting this course are four-fold. 1.) To test out a workflow that will allow attendees of a large foray to participate in bulk sequencing specimens – to sequence a large number of specimens and to get results in a short timeframe. 2.) To quickly get DNA sequence results from our Summer and Fall 2022 online forays. 3.) To help fund the equipment and supplies that will allow us to perform DNA sequencing locally at a low cost. 4.) Provide registrants with a working-level knowledge of fungal DNA sequencing with MinION.
Raised $1,620 of $1,460 target
MinION Portable DNA Sequencer - FUNDED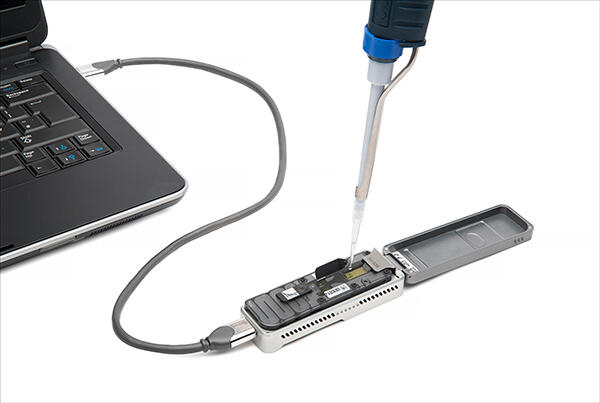 Imagine doing a mushroom foray in the day and having DNA sequences of all of the mushrooms by the evening. Our 2022 goal as an organization is to fully work though this 3rd generation sequencing technology and assess its promise or limitations to DNA sequence hundreds of mushroom specimens at a time, in a short time period. We need to fully work through all of the methods and protocols for this use case. We currently know of no other organizations or individuals that are using this technology to its potential for fungi. We have currently DNA sequenced over 10,000 mushroom specimens using traditional Sanger sequencing (1st generation). It has taken us 5-6 years to reach this goal. Once we fully implement nanopore sequencing, it would be theoretically possible to do this in a matter of days. We will still be collecting new mushroom specimens in 2022, but do not intend to do any Sanger sequencing on these specimens. All specimens will be held until this third generation sequencing technology and workflows are fully able to provide accurate and precise DNA barcodes for fungi.
The MinION will allow us to do DNA sequencing anywhere. It connects to a laptop and can (in theory) begin to give us data on-site within hours. Total cost of the enhanced starter pack is $3,250. This is one component that we will need to begin this process of vetting this technology and starting to develop workflows for DNA extraction, amplification, and sequencing.
https://store.nanoporetech.com/us/minion.html
As the Hoosier Mushroom Society is a 501c3 organization, all donations are tax deductible. 
Raised $3,465 of $3,250 target